White Paperboard Business
Accurately understanding changes in demand structure and accelerating production and sales efforts in growth areas
Business Overview
Our department's main products are premium white paperboard, special white paperboard, coated duplex board (with gray back), cast-coated paper, etc. We feature a wide range of products in order to meet our customers' diverse needs. The major usage for our products is in commercial printing, which include packages, catalogs, POP advertising, and postcards and the covers of publications. Our products are used in a wide range of fields.
Production sites in Japan are at the Niigata Mill and Kanto Mill (Ichikawa and Katsuta). Overseas, we had started operation of Jiangmen Xinghui Paper Mill, located in Jiangmen, Guangdong Province in China from January 2015. With HOKUETSU GROUP's technical strength for top quality, high efficiency and less environmental impact which is cultivated over the course of many years, we will further strengthen our profit base by selling attractive products.
Performance Highlights (White paperboard business in Japan)
In the year 2017, total domestic shipment of white paper board manufacturers is approx. 1.35 million tons and our group's figure is about 280 thousand tons which equal to 21% of the domestic market share.
Domestic demand for white paperboard is facing a gradual decline due to structural factors accompanied by the aging population and declining birthrate. In addition, strict cost-cutting measures by users has resulted in miniaturizing packages in scale and shifting to soft packaging. In the publishing sector, cover applications are also gradually decreasing due to less printed copies.
White paperboard production by type
(Japan + China operations)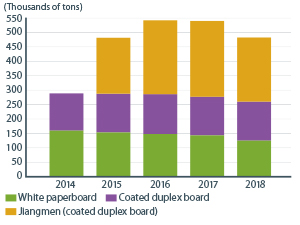 On the other hand, for the pharmaceuticals and cosmetics sector, we are maintaining shipments due to the continuing inbound effect and rising demand for sophisticated products arising from health consciousness. In the food product sector, the number of retort food pouches has increased due to the tendency toward eating ready-made meals as a result of increasing numbers of nuclear families and propensity to save. Confectioneries, such as chocolate, remained strong.
To respond to changes in the demand structure of our customers, we have pursued total optimization by building a production system that fully leverages the characteristics of the three mills in Niigata, Katsuta, and Ichikawa. We are also working on initiatives in the functional paper sector in cooperation with the Specialty Paper Business Division and expect it to grow in the future.
Future Issues and Initiatives
Important Issues
(1) Continue environmental management and adherence to compliance, and work with partner companies to achieve zero industrial accidents by building a culture of safety and putting it into practice.
(2) Develop new products, enhance our relationship with users, and promote efficient logistics reform.
(3) Achieve stable operations by implementing preventive measures for operational problems, increasing overall technical capabilities through employee training and implementing preventive maintenance for equipment.
(4) Formulate and carry out plans to improve the profitability of white paperboard operations in China by cooperating with the White Paperboard Business Division and other relevant departments.
(5) Strengthen cooperation with the Paper Processing Business Division to enhance overall Group competitiveness.
Specific Initiatives
We will proceed with developing demand for primary food containers as a growth area and advance the development of quality including in new products.
While we are anticipating greater demand for eco-friendly products with the hosting the Olympic and Paralympic Games Tokyo 2020, we are expanding sales of our Maricoat and NEW-DV flagship white paperboard while working to have them FSC® certified.
Business Topics
(White paperboard business in China/Jiangmen Xinghui Paper Mill)
Business returns to profitability on an operating income basis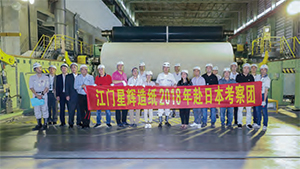 Jiangmen Xinghui Paper Mill Co., Ltd. had started production from January 2015 and the mill is entering fourth year of operation.
In 2017, despite sharp fluctuations in selling prices due to the changing price of used paper in China, sales increased significantly due to the impact of the strong white paperboard market that began in 2016. As a result, the mill was profitable on an operating income basis.
Users have steadily increased since sales began, and the reputation of Jiangmen Xinghui Paper Mill's products has also grown. They are not only growing sales in Guangdong Province, where Jiangmen is located, but also over a broad area from Dalian in the north to Hainan Island in the south. Supporters of Jiangmen Xinghui Paper Mill have also increased, and it is building a presence within the Group in China.
In February 2018 the mill introduced a shaking machine to improve texture and strengthen rigidity.
By improving facilities, it aims to further boost sales by promoting continuous improvements in quality and development of new products.
Proactively promoting environmental measures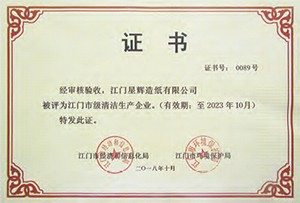 Electronic bulletin board installed at the front
entrance with a live display of environmental values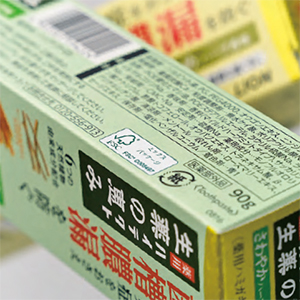 Roof installed on the used paper yard
China further strengthened its environmental protection management in 2017. In July of that year, the Ministry of Environmental Protection conducted a survey of businesses producing products using solid waste (including used paper) as a raw material. That same month, China notified the World Trade Organization (WTO) that it would prohibit the importation of so-called mixed waste paper from 2018. Since then, the circumstances surrounding imported waste paper, the main material in the paper Jiangmen Xinghui Paper Mill produces, have become increasingly strict. In order to continue production in compliance with China's environmental protection policy, we will continue to improve our production technology and promote environmental measures, and also work to reduce costs.
Consulate-General of China in Niigata visits Niigata Mill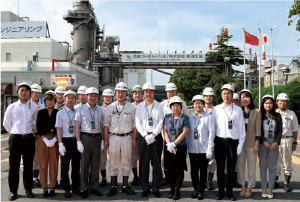 A commemorative photo in front of the Niigata Mill
The Consulate-General of the People's Republic of China in Niigata visited our Niigata Mill in June 2018.
During the visit, we explained the company's history of over 100 years of development, our management philosophy, and also toured the mill's production line, wastewater treatment, and power generation facilities.
Consul General Sun Dagang commented that he was deeply moved by the advanced manufacturing technology and environmental conservation efforts of the Niigata Mill, and that Japan and China would continue to support their growth and development as much as possible through exchanges and cooperation. Through our white paperboard business in China, we will act appropriately in response to China's environmental policy based on the superior knowledge and technology cultivated in Japan regarding environmental conservation.