Specialty Paper Business
Focusing on strengthening and expanding our earnings base to further enhance our advantage in growth markets
Business Overview
The main products of the Specialty Paper Business Division are premium printing paper, fancy paper, communication paper, paper for industrial use, specialty processed products, specialty fiber boards, functional paper, and more. Among these, products such as abrasive-coated base paper, adhesive postcard paper, and chip carrier tape boast a large share of the domestic market. Going forward, we will further solidify our domestic base while strengthening our competitiveness and revenue-earning capability in the global market.
Performance Highlights
Production of specialty paper by product type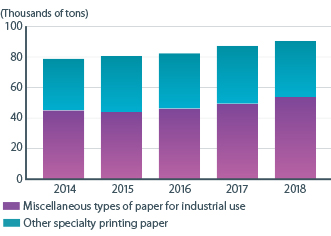 Total shipments by the Specialty Paper Business Division in 2017 totaled 103% compared to the previous year. In the specialty paper market overall, despite an environment that lacked vitality due to reduced demand for pamphlets and a switch to regular paper, we aggressively rolled out sales efforts for publishing and other industries.
In the communication paper sector, report form paper and OCR paper continue to slowly decline, but we advanced the development of processing applications both in Japan and overseas. In addition, due to local governments adopting adhesive postcard paper and our efforts to develop inkjet paper, shipments were in line with levels of the previous year. In the functional paper sector, shipments exceeded those of the previous year. Bolstered by vigorous demand from the electronic components industry, chip carrier tape base paper was strong. In addition, shipments of abrasive-coated base paper and filter material were strong due to robust demand for construction and building materials, and demand for filter materials in semiconductor investment. Exports increased to 113% of shipments for the previous year. This was due to an increase in sales of processed paper for Shanghai Toh Tech in China, where strong sales continue. We will continue to expand the scale of our operations in overseas markets.
Future Issues and Initiatives
In the Specialty Paper Business Division, the company is working closely with five strategic businesses and subsidiaries (Hokuetsu Toyo Fiber, Nikkan, Shanghai Toh Tech, Bernard Dumas, and HK Paper (USA)) and have promoted the expansion of our business area by shrinking the distance between end users on a global scale and linking latent needs to commercialization.
This effort has steadily gotten on track and has been able to expand our business area. The effect of cooperating with head office has even improved the profitability of each strategic business and subsidiary. Significant results are emerging in the overall Specialty Paper Business, such as profits that double the sales ratio and an operating profit margin in excess of 10%.
In FY2018, we are facing a severe headwind of a drastic rise in the price of raw materials and fuel, but will steadily advance "V-DRIVE" by strengthening our earnings base.
Specialty Paper and Communication Paper
The specialty and communication paper sector is struggling with the decline in demand for fancy paper, but we will work to expand sales related to the latent potential of premium printing paper and create demand for waterproof and oil-resistant paper.
With communication paper, although both form and OCR paper face declining demand due to digitization and other factors, we are working to develop processed base paper applications and expand sales of adhesive postcard base paper.
Functional Paper
The functional paper sector is dominated by manufacturing and industrial applications, and is a field where the Group specializes in offering products that are truly unique or have a top share of the market.
We will strengthen cooperation with each strategic business and subsidiary, and aim for global growth under the following initiatives.
Establish a system to increase the production of chip carrier tape base paper
Establish a production base in the United States for battery separators
Establish an optimal production system for global markets from production bases in Japan, Europe, and the United States
Plan to expand sales in the Chinese and Japanese market for RO (water treatment) membrane backing for the water treatment sector to supply safe water
Collaborate with laboratories to commercialize cellulose nanofiber (CNF) technology
Business Topics
Fancy & Media Paper Sales Dept.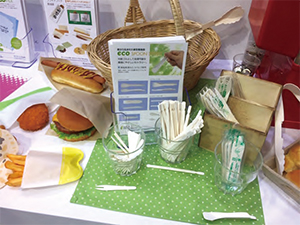 Coloring class at EcoPro 2017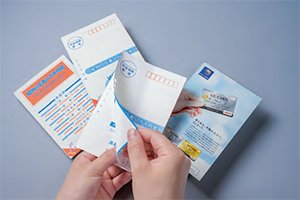 Adhesive postcard paper
In the specialty paper sector, we are actively involved in exhibiting and sponsoring user exhibitions to enhance the overall presence of the Group, in addition to developing new products and activities to expand sales. Specifically, we co-sponsored the Kawade Shobo Shinsha "coloring for adults" contest, and used the contest to engage in PR at various exhibitions with the coloring events. The coloring classes at EcoPro 2017, Japan's largest event on the environment, is one example.
The "coloring for adults" contest attracts 6,000 to 8,000 entries every year from events held by Kawade Shobo Shinsha, Sakura Color Products, and the Yomiuri newspaper. We have been a co-sponsor from 2017 since the Group's general specialty paper products are used in almost all coloring books published by Kawade Shobo Shinsha.
In the communication paper sector, we are focusing on expanding the sales of products compatible with high-speed inkjet printers for adhesive postcard paper where there is relatively strong demand. The shift from sealed to adhesive postcards continues as users cut costs in response to their needs, and initiatives for those needs is a pressing issue. As one of the initiatives, we are collaborating with printing equipment manufacturers to jointly improve quality, such as the coloring of printed text printing, bleeding, and stability of adhesion. We are also working to launch new products. We will also take advantage of the stability of dimensions and workability of communication paper to similarly advance development of adhesive postcard base paper and other base paper for processing.
Performance Materials Paper Sales Dept.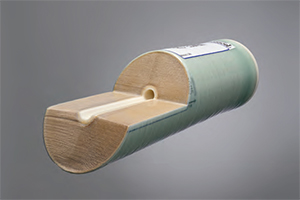 Bernard Dumas factory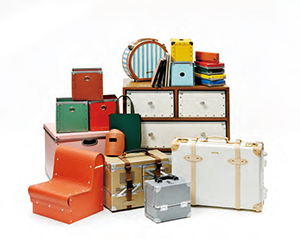 Shanghai Toh Tech factory
In the functional paper sector, collaboration is underway with two overseas subsidiaries, Bernard Dumas in France and Shanghai Toh Tech in China.
Dumas, which became a wholly owned subsidiary in 2012, is a functional materials and specialty paper manufacturer established in 1924 that boasts the top share in Europe of glass fiber battery separators. With the company becoming a subsidiary, we have become the world's second largest glass fiber sheet manufacturer.
We are developing products while sharing technical know-how in our glass fiber business with them.
Demand for automotive battery separators is rapidly increasing as they an important component that supports the reliability of vehicles that stop idling in compliance with exhaust gas regulations. We are therefore working to strengthen the production system for battery separators.
Shanghai Toh Tech is a manufacturer of paper chip carrier tape established in 2002. Carrier tape is tape for carrying electronic components such as capacitors and resistors. The company manufactures high quality paper carrier tape using our specialized paper for carrier tape.
Demand for electronic components is expected to increase due to the higher functionality of smartphones and the popularization of assisted driving systems for automobiles. Shipments in 2017 were more than 10% higher compared to the previous year. We will continue to actively investment to increase in production capacity and quality improvement.