Specialty Paper Business
Advancing a global manufacturing and sales for growth produces that anticipates market needs
SDGs closely relating to our business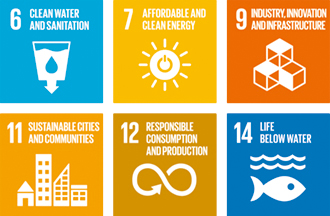 Business Overview
The main products of the Specialty Paper Business Division are premium printing paper, fancy paper, communication paper, paper for industrial use, specialty processed products, specialty fiber boards, and more. Among these, products such as chip carrier tape base paper, adhesive postcard paper, and abrasive-coated base paper boast a large share of the Japanese market. Going forward, we will further solidify our domestic base while strengthening our competitiveness and revenue-earning capability in the global market.
Medium-term Management Plan 2023 initiatives
Achieving solid expansion of our business field despite receiving some impact of the COVID-19 pandemic
The Specialty Paper Business Division conducts business in close cooperation with head office and strategic businesses and subsidiaries (Hokuetsu Toyo Fibre, Nikkan, Shanghai Toh Tech, and HC USA). From the perspective of the entire Group, including the business fields of subsidiaries, our basic policy is to become closer to end users on a global scale, accurately grasp the potential needs of customers, and bring products to the market. In 2019, we have focused on broadening our business field of the entire Group without wavering from our core businesses. This effort has steadily gotten on track and we have been able to expand our business field. In 2019, business was affected by the trade friction between the United States and China for almost the entire year, which resulted in a serious downturn with various types of functional paper, such as chip carrier tape base paper for smartphones, which is highly dependent on the Chinese market. While there were signs of a recovery beginning to appear at the beginning of the year, the world was overwhelmed by the pandemic, and we are in a situation where we cannot forecast the direction of the business division in all business fields.
Accelerating expansion into growth markets such as plastic alternatives and environmental health
The specialty paper segment is in a difficult situation due to the accelerating decline in demand for fancy paper and premium printing paper. We are focusing on food-related fields centered on oil-resistant paper, for which we expect stable sales, and promoting the development of products related to plastic alternatives to work to expand into new markets. While the market for communication paper is shrinking, the pandemic is creating a harsh situation due to the decline in mark sheets for car and horse race betting and answer sheets, which rely heavily on OCR paper. We will strengthen our efforts in processed base paper applications, expand sales of adhesive postcard paper, and develop new applications. In the Functional Paper Sales Department, sales of chip carrier tape base paper for transporting electronic components for smartphones and base stations has been strong, but the situation for automotive use remains sluggish. Abrasive-coated base paper and specialty fiber board (PASCO) were affected by inventory adjustments taken due to the effects of the pandemic, but are now returning to normal to reflect actual demand. However, there is strong demand for high-performance air filter media to combat infectious diseases and water treatment membrane backings used to filter drinking water. We will continue to work in accordance with the SDGs, such as the goals for clean air and
Focus & Topic
Making further advances in the efficiency and rationalization of existing businesses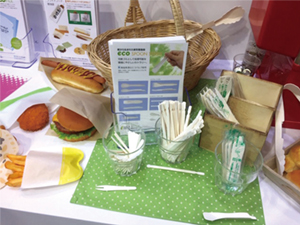 The Specialty Paper Business Division is focusing on the following initiatives as the basic policy of the Medium-term Management Plan 2023.
● Build a system to produce/sell growth products from a global perspective.
● Address the demand for plastic alternative materials.
● Enter new fields and businesses for high added value products.
Preparing for a market recovery after the COVID-19 pandemic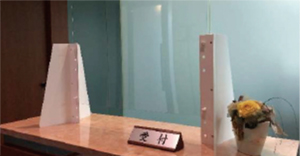 We are making preparations to strategically respond to the recovery of the market after the pandemic is over. We anticipate the smartphone market will further grow due to the steady progress of 5G, the promotion of IoT, and the trend toward the electrification of automobiles. This means we must thoroughly prepare a system to ramp up the production and sale of performance materials paper for these fields. The pandemic has rapidly increased the need and importance of environmental health products on a global scale, such as water treatment products and air filters. We will make the early realization of a system to increase the production of RO membrane backings for water treatment that covers the entire global market a top priority. Also, we will leverage the trend toward plastic alternatives and actively promote the development and roll out of various materials (fiber, PASCO, Panse, and other materials for food packaging) that are compatible with plastic alternatives.