Paper Business
Boldly promoting measures to strengthen competitiveness in a global market
Business Overview
The main product of the Paper Business is printing and communication paper used for books, magazines, catalogs, and brochures. Within the product line-up, coated paper is our key product, and its production volume in 2017 had the second highest share in the domestic industry. Furthermore, our colored wood-free paper with its tradition and rich product line-up have maintained a share of over 65% of the domestic market, which shows our brand is favored by a wide range of customers.
Performance Highlights
Total domestic shipments for printing and communication paper manufacturers in 2017 have fallen for four consecutive years since 2014. The demand for paper continues to decline due to the continuing digitalization of media from the spread of smartphones and tablets, lower budgets for advertising on paper media, and the declining birthrate. In this environment, we will work to recover demand by combining the respective benefits of paper and digital mediums, and taking advantage of the functionality of paper that cannot be replaced digitally. We will continue to maintain our price, further pursue optimum production and efficiency improvements, and stably provide high quality products.
We exported 236,000 metric tons of paper from the Niigata Mill in 2017. We exported approximately 35,000 tons of coated paper to our key market in North America. Exports to Hong Kong increased and reached nearly the same amount, approximately 34,000 tons.
Other major export destinations are in neighboring countries in Asia. We export more than 100,000 tons in total to Taiwan, Vietnam, South Korea, Thailand, and Malaysia, that includes wood-free paper for notebooks and books; and coated paper for flyer leaflets, calendars, and study reference books.
In 2018, we will strive to further expand exports, strengthen our competitiveness in overseas markets as domestic demand declines, and develop new customers.
Future Issues and Initiatives
Paper production by product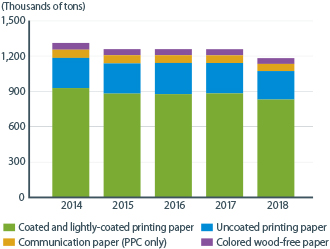 With the second year of the "V-DRIVE" Medium-Term Management Plan in the final step of "Vision 2020," the Paper Business Division will ensure the Niigata Mill, Kishu Mill, and the Sales Department are aligned in the same direction working together, and engaged in full-fledged efforts to enhance our competitiveness. To respond to rapid changes in the external environment, we will strive to improve our domestic market share. In exports, we will build a production system that can compete in the global market, and take bold measures to strengthen the competitiveness of the Paper Business Division as detailed in "V-DRIVE" Specifically, we will focus on the following:
Production
(1) Thoroughly pursue optimum production and lower costs at the Niigata and Kishu mills, while ensuring stable operations and supply.
(2) Improve the reliability of quality and strengthen the relationships of trust we have with our users.
(3) Reduce the environmental impact of our production operations through the effective use of resources.
Sales
(1) Improve sales share through development of competitive new products based on our coated and wood-free paper, and further advance new uses for colored wood-free paper.
(2) Conduct regular visits of our users by staff at our mills to strengthen relationships and ensure reliable quality and sales.
(3) Accurately grasp overseas market trends, maintain and strengthen relationships with existing customers while further strengthening export sales.
Business Topics
Start of sales of FSC® certified products
We began selling FSC-certified products for some of our coated paper products (A2 gloss μ Coat Neos-F sheet style from production in April 2017 and A2 matte μ Matte-F sheet style from December 2017 production).
The Tokyo Organising Committee of the Olympic and Paralympic Games announced the basic principles of its Sustainable Sourcing Code, which includes consideration of: the environment, human rights, labor throughout the entire supply chain, ensuring traceability, and using resources effectively for services, etc. procured by the Tokyo Olympics and Paralympics.
Companies reacted instantly to this development, and they began to use raw materials with FSC® certification for their own final products, delivery materials, buildings, and so on.
We are also adding FSC-certified products to our lineup, aiming for products that are actively selected by users.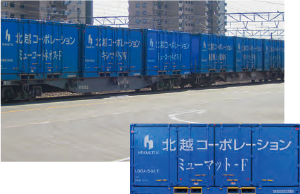 Further expansion of paper exports
The Group has been exporting and expanding mainly printing and communication paper since 2008, and has continued to supply it without being affected by fluctuations in foreign exchange rates. As a result, the relationship of trust we have developed with customers through these efforts has led to the recent expansion of sales volumes.
In 2017, exports from the Niigata Mill decreased due to the large-scale maintenance of equipment, resulting in sales of 236,000 tons.
In 2018, our plan is for over 300,000 tons of paper exports from Niigata Mill, and we are making progress in expanding sales. Consequently, at the Niigata Mill, we are steadily expanding production volume by developing new types of coated papers intended for overseas use, and developing sales channels to India and China. The Kishu Mill is also expanding exports, and the sales volume for wood-free processed paper is increasing in South Korea, China, India, and elsewhere.
We will continue to aim to achieve our planned sales volume by expanding both regions and paper varieties.
Exports and destination of production of Niigata Mill products (2017)