Paper Processing Business
Supplying high quality products by integrated production from the development of base paper and paper materials to processing
Business Overview
In the Paper Processing Business, our consolidated subsidiary, Hokuetsu Package Co., Ltd. (which changed its name from BF and Package Co., Ltd. on July 1, 2018), is developing its business by leveraging the strengths of its integrated production from the development of base paper and materials to processed products.
Its major business fields are: 1) paper containers, food containers, and confectionery boxes used by convenience stores and supermarkets, 2) processed paper such as Lami Board (the generic name for decorative paper) used in cosmetics and medical products packaging, 3) Tohei Pak brand milk and drink cartons, 4) adhesive postcard paper used for invoices, answer sheet paper, data processing of personal information, and printing and communication media, etc. requiring advanced technology such as RFID* tags.
We are striving to deliver high quality products to customers in each field.
The Katsuta Engineering Department of the Kanto Mill at Hokuetsu Package, which produces milk and drink cartons and primary food containers, has acquired the FSSC 22000 Food Safety System Certification, the international food safety management standard, and is committed to health and safety management. The Tokorozawa Production Department, which produces printing and communication media products, has acquired ISMS Information Security Management System certification, and is implementing strict security management.
Hokuetsu Package is also actively promoting environmental management in accordance with the Group's minimum impact basic policy. They have acquired FSC® certification to promote sustainable forest management and Programme for the Endorsement of Forest Certification Schemes (PEFC) Chain of Custody (CoC) certification (certification of products). They are also manufacturing products with clean energy from one of the largest biomass power generations in Japan which is at our Kanto Mill (Katsuta).
* RFID: Radio frequency identifier A contactless system that uses radio waves to read and write the embedded ID information of an RF tag.
Performance Highlights
Sales by busines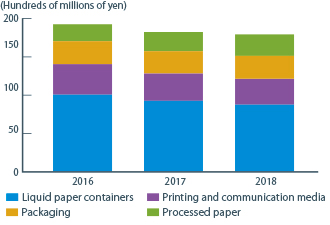 The processed paper sector saw increased sales supported by strong demand for decorative paper and paper with processing variations. In the packaging materials sector, in spite of the shortening of product lifecycles, including the demand for convenience store product materials, sales were stable owing to acquiring other product materials.
In the liquid container sector, on the other hand, sales declined due to the effect of the change in shape of drink cartons and reduction in structural demand in the printing and communications media sector. As these two areas account for approximately 70% of sales, we will aggressively make capital investments in business fields where demand is expected to grow in the future, and will change the sales ratio in the medium term.
Future Issues and Initiatives
(1) Improve safety awareness
By making danger visible, we will raise the safety awareness of each employee and implement systematic occupational health and safety education to create a safe and healthy workplace.
(2) Enhance governance system
We will continue to strengthen our risk management and maintain and deepen internal control.
(3) Pursue high quality and high efficiency
Each division will clarify their quality issues, formulate remedial measures, build a quality management system to verify its effect, and promote the introduction of new systems to improve operational efficiency.
(4) Rapid response to changes in the business environment

Anticipate changes in the market environment and cooperate with other business divisions to accurately respond to user needs.
In collaboration with Italian IPI S.r.l. (IPI), we began selling new drink cartons and filling machines. We will also promote new businesses and plan and develop new products that meet market needs.
Strengthen our response capability to minimize negative impacts such as foreign exchange risk and higher prices for raw materials.
Business Topics
Partnering with IPI to sell new paper beverage containers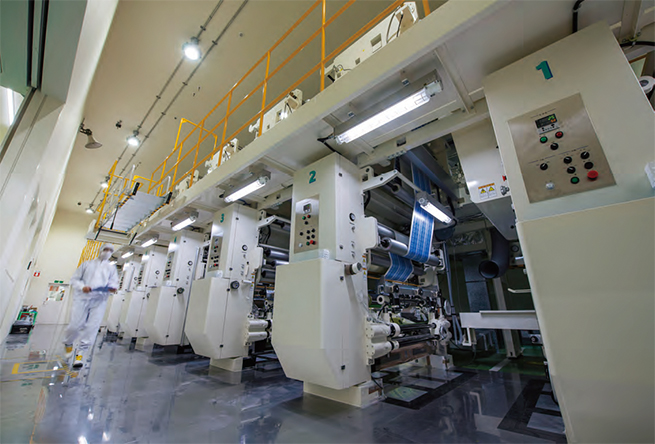 IPI aseptic filling machine (NSA-EVO/ASEPTIC)
In order to enter the new drink carton market, Hokuetsu Package entered into an exclusive sales agreement in Japan with Mitsubishi Shoji Packaging Corporation and IPI of Italy for sterile filled drink cartons and aseptic filling machines. We began marketing of IPI aseptic filling systems (filling machines and drink cartons) for dairy, food, and beverage manufacturers. The biggest feature of the drink carton is that it is a long-term storable aseptic* container with high convenience (easy to open, easy to pour, easy to drink) with a large cap in the center of the top. We have a lineup of several shapes according to the application, and the Caliz type with a glass motif, in particular, has a unique body with a gentle curve that is easy to hold.
The NSA-EVO aseptic filling machine that creates these shapes has a simple and compact design, and is a filling machine that realizes a high quality level with simple operation. Capacities can be set from 100 ml to 1,000 ml, with the ability to handle 6,000 containers per hour for 125 ml to 250 ml containers.
About 50 companies in the dairy, food, and beverage industries were invited to an exhibition held in spring this year, which was a success.
*Aseptic is a technology that sterilizes food and beverages, and packaging materials separately, and fills and packages food and beverages in a sterile environment to ensure long-term storage.
Providing environmentally-friendly products with two FSC-certified papers
Hokuetsu Package acquired PEFC certification in July 2017, and provides milk and drink cartons made from two types of certified paper that includes the FSC® certification it already has. In response to the growing need for environmental protection, they are also working toward giving certification marks to paper containers and processed paper.
We will continue to contribute to the creation of a sustainable society by providing environmentally-friendly products and reducing our impact on the environment.
Protecting information assets with the ISMS international standard
The Tokorozawa Production Department conducts data processing services (DPS) and retains personal information from customers. As such, we protect information assets from information security threats in accordance with the ISO 27001 Information Security Management System (ISMS). For example, we strictly control room entrance according to security permissions by personal identification using IC cards, and handle the information securely and properly as we conduct business.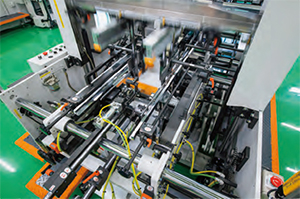 IPI aseptic drink cartons for filling