Packaging Business
Aiming to improve total packaging services to be safe, secure, andenvironmentally-friendly
SDGs closely relating to our business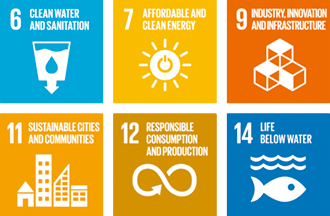 Business Overview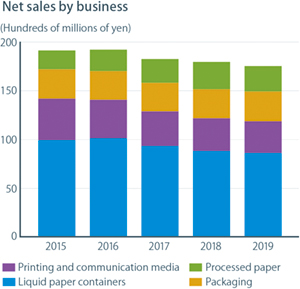 In the Packaging Business, our consolidated subsidiary, Hokuetsu Package Co., Ltd. (HPC) develops business by leveraging the strengths of its integrated production from making base paper and developing materials to the design, printing, and processing of finished products. HTC produces "TOHEI-PAK" brand milk cartons, packaging materials for primary food containers and confectionery boxes, functional and cosmetic processed paper used for cosmetics and OTC pharmaceutical packaging, and printed materials such as adhesive postcard and mark sheet paper. They also manufacture communication media products for the processing of personal information data.
Medium-term Management Plan 2023 initiatives
Improved profitability for mainstay milk cartons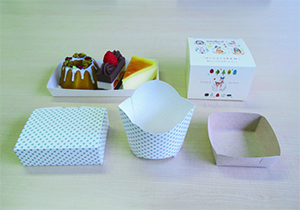 In FY2019, sales of our mainstay milk and drink cartons declined due to a decrease in sales volume, but profits improved due to revisions of the selling price and controlling raw material costs. Sales of packaging materials increased thanks to a significant increase in the sales volume of paper trays and sleeves for convenience stores. In the processed paper segment, the sales volume of thin-film deposition paper for cosmetics decreased as inbound demand calmed down. In the business form printing and communication media products segment, the decline in demand has yet to bottom out. Examples of product packaging
Rebuilding a system that can respond quickly to changes in the environment
FY2020 marked the start of Medium-term Management Plan 2023, but the business environment is becoming more severe due to the rapid stagnation of economic activity associated with the COVID-19 pandemic. For this reason, we will swiftly review our production system in response to changes in packaging demand trends, improve operational efficiency throughout the company, and reallocate personnel to improve profitability. On the sales front, we will steadily implement sales activities that accurately capture what our customers really want, concentrate on our core competences in our product lineup, and focus on planning and developing new products. In the milk carton segment, we will work to recover our market share, which decreased due to the upgrading of filling machines for our business partners. In the packaging materials segment, we will expand our production system to further strengthen our competitiveness in the field of primary food containers, such as trays for prepared foods and desserts. In the processed paper segment, we will demonstrate the cost competitiveness provided by the introduction of an 8-color rotogravure printing press and expand sales of laminated products for cups for ice cream and instant noodles. In the communication media segment, we will use our newly introduced color IJ printer to provide digital on-demand printing products.
Focus & Topic
Strengthening marketing to meet demand for plastic alternatives
TThe sales and profits of Hokuetsu Package Co., Ltd., which is in charge of the Group's packaging business, has been on a downward trend from FY2016 since it was formed by the merger of two companies in FY2015. This is due to the high sales composition ratio of gable top type milk cartons and business form printing and communication media products, whose demand continues to decline structurally. We will further move forward with efficiency and the streamlining of these existing businesses. However, in addition to strengthening our marketing capabilities by deepening cooperation between Group companies, we will also strengthen product and application development of alternative materials to single-use plastics, for which demand is expected to increase, by collaborating with users and other industries. We will also consider building a new business portfolio with the aim of securing new sources of revenue. We will restructure our business portfolio through these efforts.
Initiatives based on Group Environmental Target 2030
TAs an initiative set forth in Group Environmental Target 2030, we are working to expand environmentally-friendly products such as milk cartons and processed paper made from FSC and PEFC certified paper. With processed paper in particular, our lineup includes high-brightness PET-deposited paper, made by laminating cast-coated paper containing recycled paper and aluminum-deposited PET film, and transfer-deposited paper, which does not have aluminum-deposited PET film in its products, to meet the needs to reduce the use of plastic and use more plastic alternatives. This paper is used by major cosmetics manufacturers in Japan and overseas. We also strive to ensure product quality and be responsible to our customers. The Katsuta Production Department, which produces packaging products for beverages and food, uses FSSC22000 (food safety management system) to provide safe and secure products. The Tokorozawa Production Department, which handles personal information from customers, uses of ISMS and PMS to thoroughly protect and manage personal information.