Investment Business
Business strategy moving forward
Since our founding, we have developed our business mainly in Japan based on our highly competitive mills. Since the 2010s, we have achieved growth in overseas markets as the Japanese market matured. In addition to our existing overseas business, we will develop further our investment business in line with global needs.
Review of Medium-term Management Plan 2023 Priority Measures
Consolidated subsidiaries
Business Overview
Progress of important issues in FY2021
Alberta-Pacific Forest Industries Inc. (Al-Pac)

Al-Pac is North America's largest pulp mill, operating in Alberta, Canada. As of 2021, it produces an annual pulp production of approximately 640,000 tons. It also operates an electricity sales business that supplies and sells power generated by biomass to the power grid in Alberta.

Location: Alberta, Canada
Business: Pulp manufacturing, electricity sales, etc.
Products: Hardwood pulp, softwood pulp
Production capacity: 640,000 tons/year

Profits were solid thanks to rising sales prices in Asia and North America due to supply instability caused by global logistics turmoil, as well as strong performance in the electricity sales business. On top of these, completion of the mill-site warehouses expansion project for the purpose of optimizing logistics and the installation of recovery boiler heat recovery system for the purpose of expanding the electricity sales business also contributed to the increase in profits.

Jiangmen Xinghui Paper Mill Co., Ltd.

Jiangmen Xinghui Paper Manufacturing Co., Ltd. is a company that manufactures and sells white paperboard in Guangdong, China. They manufacture products that meet customer needs, such as coated duplex board used as packaging materials, special paper for blister packs, and uncoated products. They have built an extensive sales network centered on Guangdong Province, and also export to Southeast Asia.

Location: Guangdong, China
Business: Manufacture and sales of white paperboard
Products: Coated duplex board, coating liners, white liners
Production capacity: 300,000 tons/year

In China, unstable economic conditions continued due to the impact of the COVID-19 pandemic. In addition, although business operations continued to face severe challenges, including requests to save electricity due to strict environmental policies, a ban on the import of recycled paper, and soaring pulp prices, we were able to achieve a certain level of profitability as a result of promoting investments in energy conservation and improving efficiency.

Bernard Dumas S.A.S. (Dumas)

Dumas is a French manufacturer of performance materials and specialty papers, and became our wholly owned subsidiary in 2012. They produce filter paper made primarily from glass fiber for air purification, AGM battery separators for storage batteries, among other products.

Location: Dordogne, France
Business: Manufacture and sale of glass fiber sheets
Products: AGM battery separators, filter paper

Despite the disruption in marine transportation in terms of both raw material procurement and product sales, the decline in demand due to the spread of COVID-19 has reversed, and 2021 was backstopped by strong demand throughout the year. Demand for battery separators continues to be brisk worldwide, so we plan to do everything possible to ensure a stable supply to our customers.
| Affiliated companies accounted for under the equity method | Business Overview |
| --- | --- |
| Daio Paper Corporation | Daio Paper is a comprehensive paper manufacturer headquartered in Tokyo and Shikoku. In 2012, it became an affiliated company accounted for under the equity method. In addition to its containerboard business, it is a highly competitive company in the household paper business that we intend to enter, and plays a role in diversifying the Group's business portfolio. |
Entering into new business
New business utilizing core technology and accumulated experience
In the rapidly changing pulp and paper business environment, we are working to discover and commercialize new businesses that will contribute to the reform of our business portfolio for sustainable growth. Based on the premise that we can use the Group's core technologies regardless of whether it is in Japan or abroad, we aim to enter fields where we anticipate more sustainable growth. In particular, in our overseas business, we will create synergies with existing businesses in Japan and overseas by expanding business and making the best use of existing overseas locations and by acquiring new businesses through investment that address the management issues of the entire Group. Going forward, we will continue to invest in discovering and coordinating the introduction of new technologies that contribute to preventing climate change and global warming, with the aim of realizing a carbon-free society and carbon neutrality, which have rapidly gained attention. At the same time, we will explore joint ventures by using these technologies.
TOPIC:Other overseas business initiatives
Shanghai Toh Tech Co., Ltd.
Shanghai Toh Tech is a company based in Shanghai, China that processes and produces chip carrier tape for transporting electronic components such as capacitors and resistors from the base paper made at our Nagaoka Mill. In FY2021, they achieved sales that exceeded the previous year thanks to growth in the IoT field. Going forward, they will work to achieve further growth while assessing the impact of COVID-19.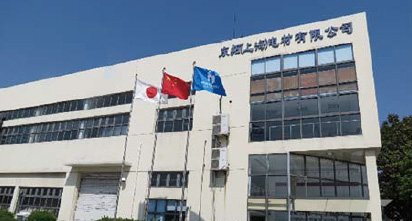 Shanghai Toh Tech Co., Ltd.
Freewheel Trade and Invest 7 Pty Ltd.
Freewheel Trade and Invest 7 Pty Ltd. is a company jointly invested by the Hokuetsu Corporation and NCT (a forestry cooperative of South Africa), which manages and operates afforestation sites in South Africa under the initiative of Hokuetsu Corporation. They plant acacias and eucalyptus trees in the afforestation sites, which not only has a role in the procurement of raw materials for the Group, making them a supplier of environmentally-friendly and sustainable raw materials by repeating tree planting and harvesting in a 10-year cycle.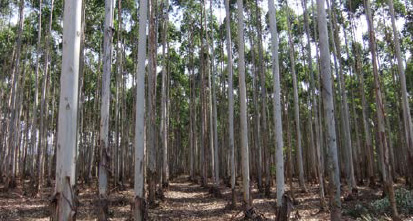 Afforestation site in South Africa