Paper and White Paperboard Business
Business strategy moving forward
In the paper business, especially for printing and communication paper, demand in Japan has drastically fallen due to the COVID-19 pandemic, and although it is on the path to recovery, it has not returned to 2019 levels. We will seriously address the gradual decline in demand, work on "Zero CO2 2050," and uncover demand under the banner of CO2 reduction, weight reduction (fine coated paper), and a modal shift, and rebuild an optimal production system at the Niigata and Kishu mills following the shutdown of the Niigata No. 2 paper machine. As the rapid depreciation of the yen continues and the shutdown of graphic paper machines in Europe and the United States becomes apparent, we will accurately grasp the trends in export markets and take sales measures that will lead to improved profitability.
In the white paperboard business, we will aggressively promote proposals for paper cups, primary food containers, and takeout containers to capture the demand for plastic alternatives and for the reduced use of plastic as an environmental response, and work to expand sales in cooperation with Hokuetsu Package. The Kanto Mill (Katsuta) aims to achieve zero CO2 emissions by 2030, and Kanto Mill (Ichikawa) will use natural gas (city gas) as a clean energy source to increase the ratio of biomass energy.
Review of Medium-term Management Plan 2023 Priority Measures
| Business strategy | Status of efforts in FY2021 |
| --- | --- |
| Build an optimal production system for printing and communication paper according to domestic and overseas demand trends | In FY2021, we sought to strengthen our competitiveness by restructuring our paper business, pursuing superiority in paper sales and pulp production and optimization of the supply-demand balance. We aim to maximize profits through a flexible structure that can respond quickly to changes in the market. |
| Strengthen export and sales capabilities based on a direct trading system | Direct trade sales in 2021 were 112% compared to the previous year. Direct trade accounted for 44% of total paper and white paper exports from the Niigata and Kanto mills (Katsuta and Ichikawa). Maricoat, which resumed exports for the first time in 30 years, achieved sales exceeding the FY2021 plan. |
| Expand sales of packaging products and plastic alternative packaging materials | Export sales of base paper for cups were 155% of the previous year's level due to stable exports to Taiwan. We are also capturing new demand for alternatives to plastic, such as primary food containers and take-out containers for fast food and convenience stores. |
| Develop products for new use by applying printing and communication paper manufacturing technology | We are developing transparent paper that can be used as a paper file as an alternative to plastic with the aim to replace film products. We are also developing water-absorbent paper for storage and packaging applications by taking advantage of its characteristics. |
| Discover latent demand for our products and improve customer satisfaction | The Wholesale Merchant Department, Direct Sales Department, and Publishing & Media Department are developing speedy sales activities based on the main products of each department to leverage their strength in handling all products. The Material Logistics Department has improved delivery efficiency by sharing production information from each mill. |
| Incorporate new product needs into the packaging business as a united Hokuetsu Group | In cooperation with group companies Hokuetsu Packaging and Hokuetsu Paper Sales, we are working on various developments to meet the demands of our users. We will continue to promote research and development in the packaging field with a sense of urgency through the concerted efforts of the Hokuetsu Group. |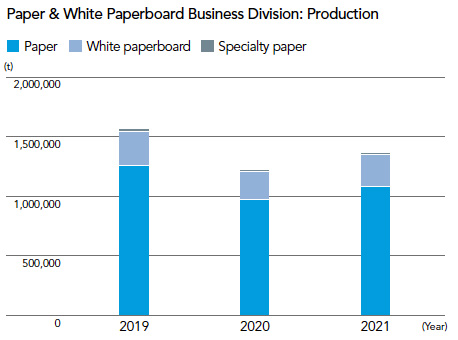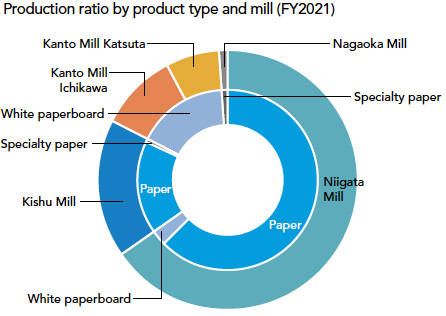 Construct an optimal production system
Establish a business structure that captures the needs of customers
By familiarizing users with and establishing a sales organization by business category (Wholesale Merchant Department, Direct Sales Department, Publishing & Media Department, and International Export Department), we will work to expand in-depth development of customer needs and link this to sales by placing importance on communication. We will aim to establish a highly efficient and optimal production system through the use of a profit center that links each sales department and the Material Logistics Department laterally. At our Niigata and Kishu mills, we will maintain a flexible production system by evening out the production system on a monthly basis. The Kanto mills (Ichikawa and Katsuta) will pay close attention to the removal of impurities from raw materials and thoroughly implement product shipment control standards due to rapid changes in the recycled paper market.
The International Export Department, with its two pillars of direct trade and sales through distributors, will respond to the rapidly changing overseas market by strengthening its vanning system and shipping from ports close to the production area, with the aim to create a sustainable export environment by securing containers by taking advantage of its geographical advantage.
Strengthen profitability of existing businesses
Improving efficiency and ensuring profitability
In order to strengthen our competitiveness by restructuring our paper business, we shut down the No. 2 paper machine at our Niigata Mill as of June 2022. We will continue to improve the efficiency of both the Niigata and Kishu mills and promote highly efficient and optimal production by leveraging profit centers, as well as pursue various cost reduction measures, such as reducing fixed and proportional costs at mills and improving the efficiency of product transportation costs. With the yen continuing to depreciate, we believe that expanding exports will directly lead to securing earnings.
On the other hand, we will promote increased production of fine coated paper with the Niigata No. 9 paper machine to meet recovering demand in Japan due to a decrease in imported paper (coated paper and LWC), leading to lower CO2 emissions in transportation through lighter products with the same surface area.
Environmentally-friendly business activities
Contribute to decarbonization by providing environmentally-friendly products and accelerating capital investment in environmental equipment
User needs are expected to change in the future due to "The Plastic Resource Circulation Act," which came into effect in April 2022, and we will expand sales of environmentally-friendly alternatives to plastic, such as paper cutlery, transparent paper, and base paper for cups. In addition, we are investing in environmental facilities with the aim of decarbonizing the energy used by our company, and have declared "Zero CO2 2050," a company-wide goal to virtually eliminate CO2 emissions by 2050, including our Kanto Mill (Katsuta), which is aiming for virtually zero CO2 emissions by 2030.
As part of our efforts to reduce the environmental impact of transportation, we have been certified as an Eco Rail Mark company by the Railway Freight Association and have also acquired product certification. We will increase the number of 20-foot containers in our own fleet, further promote a modal shift, and contribute to the realization of a decarbonized society.