Performance Materials Business
Business strategy moving forward
In order to respond quickly to the diverse needs of our customers in Japan and overseas, we are promoting a sustainable growth strategy by strengthening cooperation with our affiliated group companies (6 companies in total in Japan and overseas) and the Performance Materials Development Office, which is part of the division, and by leveraging the collective strengths of the division. Our mission is to contribute to society through the continuous development and proposal of environmentally-friendly products.
Review of Medium-term Management Plan 2023 Priority Measures
Performance Materials Dept.
| Strategies by Business | Status of Efforts in FY2021 |
| --- | --- |
| Efforts related to measures to build a system to produce and sell growth products from a global perspective | AGM battery separators produced by Dumas, our Group company in France, are seeking to claim top market share in the global market, and we are proceeding with studies to optimize production, including using production facilities at the Nagaoka Mill. |
| Capturing demand for Plastic materials alternatives | PASCO®, our rigid fiberboard, is widely used by major apparel companies as an alternative to plastic for hooks and hangers. The vulcanized fiber produced by our group company Hokuetsu Toyo Fiber Co., Ltd. is also expanding its applications to secondary materials for stationery and apparel. |
| Develop businesses that leverage the strength of the Group's integrated production from base paper to processed products | We have built a stable supply system through our integrated production system. HOCTO® chip carrier tape base paper uses pulp from the Niigata Mill as its main raw material. The tape is produced at the Nagaoka Mill and the Kanto Mill (Katsuta), and part of it is processed by Shanghai Toh Tech, a group company in China. |
| Restructuring our business portfolio and study new fields and businesses | In order to expand the general packaging and paper processing fields, we are also expanding our paper cup business under an integrated production system with our Group company, Hokuetsu Package. |
| Strengthen business by deepening cooperation among Group companies | Together with the six Group companies under our control, we are deepening cooperation in the four main fields of advanced information technology, environment and hygiene, plastic materials, and other functional paper. |
Containerboard Dept.
| Strategies by Business | Status of Efforts in FY2021 |
| --- | --- |
| Deepen relationships with customers and expand the basics of production and sales in the containerboard base paper business | We are focusing on direct sales that do not use distributors in order to strengthen direct relationships with customers and respond accurately and promptly to customer needs. In the second half of FY2021, the number of customers in Japan and export customers exceeded 60 and 30 respectively, and we have achieved full production and full sales for both export and sales in Japan. |
| Promote the improvement of production efficiency and improve profitability at an early stage | We are working to improve production efficiency by improving the per unit of raw fuels and expanding daily production. In addition, in order to accelerate improved profits, we are focusing on the development and sales of high-value-added products, centered on thinner base paper, which is our specialty. |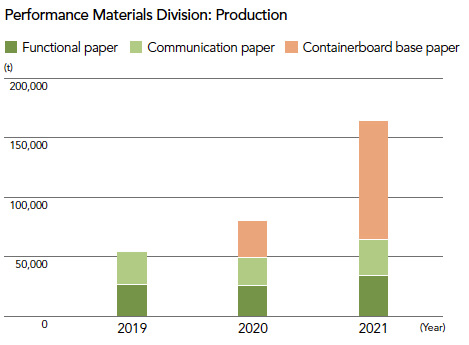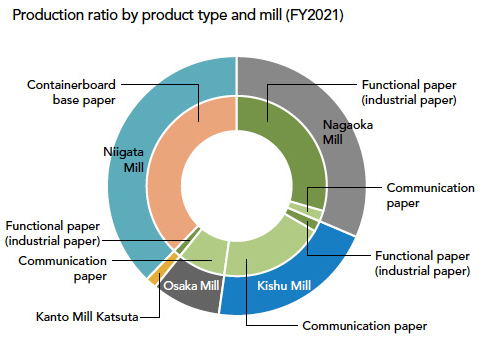 Performance Materials Department and Performance Materials Development Office
Promoting the development of performance paper that meets market needs by strengthening the collaboration between sales and development
We are also making use of its characteristics to apply it to battery cases for electric vehicles.
ReCell® Cellulose nanofiber material
ReCell® is a new material that uses cellulose nanofibers, and its name is derived from "Reinforced Cellulose" and "Reborn Cellulose."
It has strength far exceeding that of paper, as well as radio wave transmittance and electrical insulation properties, and is planned for trial use as an exterior wall material for a satellite scheduled for launch in 2023.
Electromagnetic Noise Suppression Sheet
We have created an electromagnetic noise suppression sheet with a thickness of 55  m by applying the diffusion and coating technology we have developed in paper manufacturing to carbon nanotubes. By applying this technology, we will enter the electromagnetic wave countermeasure market for high-frequency bands such as 5G (5th generation mobile communication system).
Advanced information technology-related
Environment and hygiene-related

Chip carrier tape base paper (HOCTO®), abrasive-coated base paper, metal interleaving paper, electromagnetic noise suppression sheets

Our mainstay chip carrier tape is expected to grow in the medium- to long-term due to the expansion of the IoT sector using 5G communication and the growth in the automobile sector due to the spread of EVs. We will work to improve quality and enhance our supply system by leveraging the technology we have developed over many years.

Reverse osmosis membrane (RO membrane) backings, filter media, battery separators, medical-related


We anticipate steady demand for glass fiber filter paper for air purification as it is essential for combating infectious diseases and in semiconductor manufacturing. As the only manufacturer in Japan, we continue to conduct research and development in the fields of environment and hygiene, such as for filters for water purification and backings for reverse osmosis membranes.
Demand for alternatives to plastic
Other functional paper (communication paper-related, etc.)

Oil resistant paper for food packaging, paper for food trays, packaging paper, paper cup base paper, hard fiber board (PASCO®), vulcanized fiber

In collaboration with our group company, Hokuetsu Package Co., Ltd., we are actively developing oil-resistant food packaging paper and food tray base paper for major convenience store companies that resists oil without using resin laminates. In the apparel sector, we will actively work on environmental measures by broadly developing hooks and hangers made of PASCO® and vulcanized fiber.

Crimping paper, form paper, OCR paper, various processed base paper



With regard to our mainstay crimping paper, we are continuing to expand sales by focusing on IJ crimping paper, for which demand is expected to grow. In addition, we are actively engaged in sales activities to expand sales channels for processed base paper applications and to increase sales of new products such as IJ Form.
Containerboard Department
Contribute to decarbonization by developing and selling environmentally-friendly products and encourage local production for local consumption
Three years have passed since the business started, and we are aiming for further growth by strengthening sales in both Japanese and export markets, maximizing production efficiency, and developing and selling high-value-added products to improve profitability.
We will focus on developing and selling thinner base paper in order to contribute to reducing CO2 emissions during production and transportation. At the same time, we will further encourage local production for local consumption and enhance our reduction of CO2 emissions during transportation by expanding the use of locally created recycled cardboard and expanding sales to nearby business partners. Regarding exports, we will make effective use of the local port of Niigata and aim for stable sales through quality design that incorporates local feedback from China, ASEAN, and other countries.