Message from the President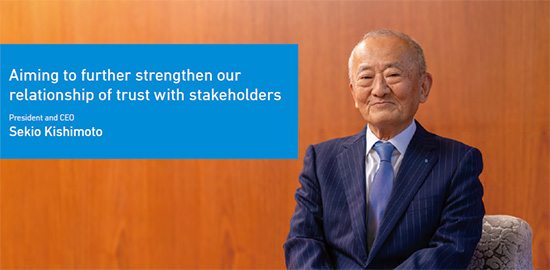 Impact of the COVID-19 pandemic
The Japanese economy during the current fiscal year languished due to the impact of the COVID-19 pandemic on the global economy. In addition to the stagnation in the global economy, the Japanese paper and pulp industry finds itself in a prolonged harsh environment with shrinking demand for printing and communication paper because of the digitization of information and media. Demand began recovering with the step-by-step resumption of social and economic activities in the second half of the fiscal year, but the Hokuetsu Group finished the fiscal year ended March 2021 with consolidated net sales of  222.5 billion (down 15.9% year on year), operating income of  1.7 billion (down 84.8% year on year), and ordinary income of  9.7 billion (down 37.7% year on year), resulting in a decline in income and profits. Net income attributable to owners of the parent company was  14.17 billion (up 75.6% year on year) due to posting a gain on sale from the transfer of all shares of Japan Brazil Paper and Pulp Resources Development Co., Ltd.
Advancing the Medium-Term Management Plan to achieve our long-term vision
The business environment surrounding us is expected to continue to be uncertain due to the impact of the COVID-19 pandemic. Given this situation, in April 2020, Our Group launched its new long-term corporate vision "Vision 2030," which aims for sustainable growth, and "Medium-term Management Plan 2023".This plan focuses on advancing four objectives: "(1) strengthen environmental competitiveness," "(2) shift business portfolio and expand business worldwide," "(3) strengthen business in Japan" to meet new demand for paper, and "(4) strengthen corporate governance" as the foundation for the above with an eye on balancing environmental measures and corporate growth potential based on the SDGs.
Advanced environmental responsiveness is the source of our strength zero CO  emissions by 2050
The objective to "(1) strengthen environmental competitiveness" is the Group's top management issue. From early on, we have worked to produce paper and paperboard that is environmentally-friendly, and made capital investments of around  50 billion to reduce CO  over the last 25 years, such as by installing recovery boilers, wood biomass boilers, and mega solar power generation facilities at each of our mills. We are also working to reduce CO  emissions throughout the paper product life cycle. As a result, our paper products are made with 70% "CO  zero energy." This is the source of the Group's competitiveness. Furthermore, in order to emphasize the environmental vision that we are aiming for, in November 2020, we formulated "Hokuetsu Group Zero CO  2050," which aims to realize virtually zero CO  emissions by 2050. To achieve this environmental vision, the Group is considering the building of new or expanded biomass boilers, consignment of privately-generated power between plants, and the introduction of heavy oil alternative technology and equipment at pulp mills.
Accelerating our business portfolio shift and aggressively expanding new businesses in Japan and abroad
In light of the recent circumstances, we believe that it is necessary to further advance our efforts to "(2) shift business portfolio and expand business worldwide." Overseas, we are moving forward with various measures to secure stable profits over the long term, such as strengthening the electricity sales business and distribution network in our pulp business in Canada. Our white paperboard business in China set record-breaking profits due to rising product prices, and the start of the development and sales of containerboard at Jiangmen Xinghui Paper Mill. Furthermore, the performance materials business in China and France continues to set record-breaking profits at a pace that exceeds our Medium-Term Management Plan due to the progress of digitization worldwide. These efforts have resulted in a current overseas sales ratio of 31%. In Japan, we will enter the household paper business and start producing and selling household paper products such as toilet paper, tissue paper, and paper towels, which are the only paper products with increasing demand. Our containerboard, which has already been in production since April 2020, is broadly accepted across the country and sales volumes are increasing.
Building a new organization to meet new demand for paper in Japan
The paper and pulp market is entering a new phase due to dramatic changes in society. In order to respond to this situation accurately, the entire Group is working to "(3) strengthen business in Japan." As one measure, in April 2021, we reorganized into two business divisions, the Paper & White Paperboard Business Division and the Performance Materials Division. Moving forward, the Paper & White Paperboard Business Division will aim to improve business efficiency and stabilize profits as an existing business, while the Performance Materials Division will focus on expanding the business domain of functional paper and earning revenue as a new material. With this new organization, we will maximize synergistic effects for the growth of the Group.
Promoting risk management activities with the aim of further strengthening corporate governance
Finally, regarding the objective to "(4) strengthen corporate governance," we are working to solidify our corporate governance with the goal of realizing the Group Corporate Philosophy and the Group Code of Conduct. In the current fiscal year, we established the "Group Risk Management Basic Regulations" to identify management risks and clarify matters to be addressed. In addition, we also established the position of Chief Risk Management Officer to conduct risk management activities for risks related to occupational safety. By promoting these efforts, we will improve the corporate value of the Group and aim to achieve transformation and growth with an eye on the next generation as a corporate group that is even more trusted by stakeholders.