Message from the President
Swiftly and flexibly implementing new management plans with an eye toward a post-COVID-19 society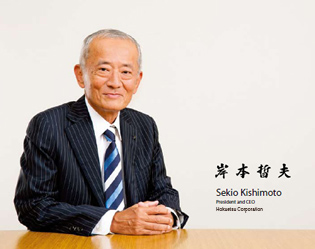 The economy in Japan in FY2019 was a tough business environment due to the sharp decline in global economic activity owing to the effects of trade friction between the United States and China and COVID-19 which I will refer to here as the pandemic. Even in Japan's pulp and paper industry, there was no way to avoid a significant reduction in demand for printing and communication paper, and we had no choice but to cut production. Given this business environment, the Group's financial results for fiscal 2019 were consolidated net sales of ¥264.6 billion, operating income of ¥11.2 billion, and a record high ordinary income of ¥15.6 billion.
The Japanese government declared a state of emergency in April 2020, but we also forged ahead with preventive measures such as teleworking, staggered work hours, and the use of hand sanitizer. The state of emergency was lifted in late May. However, since then, the pandemic has continued to relentlessly spread to various parts of the world and continues to have a serious impact on the global economy. A second wave hitting Japan is a real possibility.
Due to the effects of the pandemic, demand for paper products and pulp has been rapidly declining both in Japan and overseas, which has had a significant impact on the Group's performance. As such, we announced a revised business forecast on August 7, 2020. The pandemic is expected to have an impact on the global economy for the foreseeable future, but we will implement Long-term Corporate Vision "Vision 2030" and Medium-term Management Plan 2023 swiftly and flexibly in response to a changing environment with an eye toward a post-coronavirus society, and aim for further growth.