Investment Business

Looking back on FY2020
Throughout the year, the Business Investment Division examined policies related to the Hokuetsu Group's restructuring of business in Japan and the optimal business portfolio from a global perspective, including overseas operations, and proposed several new business projects. One of these is our decision to enter the household paper business, which was announced on May 14, 2021. In addition, the division solicited a wide range of new business projects within the Hokuetsu Group. It selected promising projects from more than 250 applications and decided to move forward with feasibility studies.
Al-Pac
The pulp business at Alberta-Pacific Forest Industries Inc. in Canada saw lower profits as prices fell due to the slump in the international pulp market. While working to prevent the spread of COVID-19, it has started work to install a recovery boiler heat recovery facility to expand its electricity sales business and is also working to expand its mill-site warehouse in order to optimize product distribution.
Al-Pac overview
| | |
| --- | --- |
| Location | Boyle, Alberta, Canada |
| Business | Pulp manufacturing, electricity sales, etc. |
| Products | Hardwood pulp, softwood pulp |
| Production capacity | 600,000 tons/year |
Jiangmen Xinghui Paper Mill
In the white paperboard business at Jiangmen Xinghui Paper Mill Co., Ltd., the procurement of imported recycled paper was completely banned from January 2021 due to the tightening of environmental regulations in China, forcing a switch to procuring all of its recycled paper in China. In addition, in the midst of the turbulent reorganization of the premium packaging paper industry in China, the company conducted precise production and sales activities and set record-breaking profits. The company also updated its hot-air drying equipment to achieve its specified purpose and reduced energy costs to save energy.
Overview of Jiangmen Xinghui Paper Mill
| | |
| --- | --- |
| Location | Jiangmen, Guangdong, China |
| Business | White paperboard manufacturing |
| Products | Coated duplex board, coating liners, white liners |
| Production capacity | 300,000 tons/year |
TOPICS:Jiangmen Xinghui Paper Mill
Contributing to low CO2 emission business with new technology
The upgrade work of the coater dryer at Jiangmen Xinghui Paper Mill was published in an industry machine supplier magazine as a success story of how introducing technology can improve production efficiency and build competitiveness in low CO  emission manufacturing.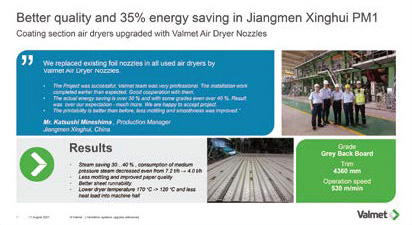 Daio Paper
Daio Paper became an affiliated company accounted for under the equity method in 2012. It is a general paper manufacturer headquartered in Tokyo and Shikoku. In particular, it is a highly competitive company in containerboard and household paper, which helps diversify the Group's business portfolio.
FY2021 outlook
Earnings at Al-Pac are expected to improve significantly on the back of the recovery in the pulp market. We will continue to implement measures to secure long-term stable profits that can withstand fluctuations in the pulp market and consider new businesses that take into account indigenous peoples and the environment. With respect to Jiangmen Xinghui Paper Mill, there are continued drastic fluctuations in both raw material procurement and product sales. We will strive to secure long-term stable profits by stably securing recycled paper as a raw material and introducing cost-cutting technology.
FOCUS:FY2021 concrete action plan
Entry into the household paper business
Household paper products such as toilet paper, tissue paper, and paper towels are daily necessities for which we expect stable demand in the future. Utilizing our wealth of knowledge and technology in high-quality, low-cost, and high-efficiency operations developed over the years, Hokuetsu Corporation has decided to establish a new household paper production facility at the Niigata Mill near the Kanto area, a mass consumption market, to produce and sell household paper products. Our household paper products are made with 70% or more "CO  zero energy," and we will continue to contribute to the realization of a carbon neutral society through the supply of these household paper products.
Overview of production facility
| | |
| --- | --- |
| Location | Niigata City, Niigata Prefecture (at the Niigata Mill) |
| Capital investment | Papermaking equipment, processing equipment, product warehousing, etc. |
| Products | Toilet paper, tissue paper, paper towels, etc. |
| Production capacity | 25,000 tons/year |
| Planned capital expenditure | Approximately ¥15 billion |
| Start of production | December 2023 (estimated) |