Paper and White Paperboard Business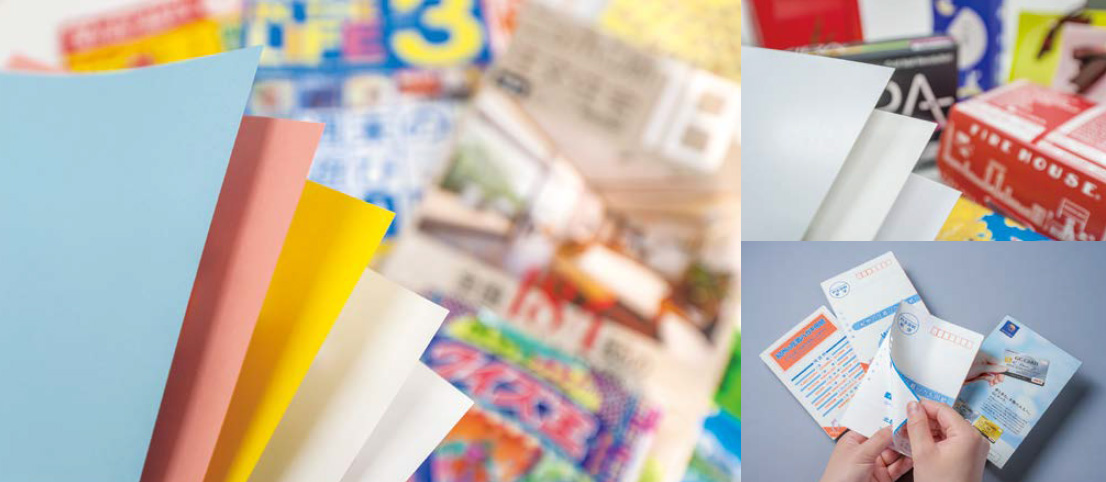 Looking back on 2020
Paper and paperboard shipments fell sharply due to the COVID-19 pandemic. Hokuetsu Corporation has been moving forward with building an optimal production system and developing products for new applications in our paper and white paperboard businesses.
Paper business
Shipments of printing and communication paper in Japan fell significantly due to the decrease in demand for commercial printing stemming from the cancellation of and self-restraint exercised toward various events due to the COVID-19 pandemic and the decrease in PPC paper for offices due to the spread of telework. Shipments at Hokuetsu Corporation were approximately 20% lower than the previous year. By product, coated paper for leaflets and pamphlets fell sharply, but catalogs such as for mail-order shopping remained firm due to demand from more people staying at home. The volume was stable in the publishing industry as it saw record growth in comics and strong demand for study-aid books and illustrated reference books. Sales volumes increased with respect to exports as demand for paper remained firm due to the early economic recovery in China and the economic recovery in other Asian countries for which the impact of COVID-19 infections had not been so severe. Exports of base paper for paper cups and thermal base paper, primarily for processing applications, grew at the Kishu Mill.
White paperboard business
Of the approximately 1.17 million tons of white paperboard shipped by Japanese manufacturers in 2020, we maintained a 20% share of the market by shipping approximately 230,000 tons in Japan. The COVID-19 pandemic caused shipments of white paperboard by Japanese manufacturers to fall by nearly 10%, and Hokuetsu Corporation was also greatly affected. Regarding premium white paperboard and special paperboard, demand for souvenir packaging and POP advertising and catalog applications fell significantly due to a decrease in the movement of people caused by the stagnation of the tourism industry and as companies rethought advertising budgets. However, coated duplex board for food packaging remained relatively strong due to greater stay-at-home demand for home-cooked meals. Exports of coated duplex board to Southeast Asia resumed for the first time in 30 years in response to product price increases against the backdrop of rising global waste paper prices.
2021 outlook
Based on "Medium-Term Management Plan 2023," we will move forward with the strengthening of our marketing and sales and flexibly respond to changes in society under a new organizational structure.
Medium-Term Management Plan 2023 initiatives
We launched a new organizational structure in April 2021. With regard to paper and white paperboard, we will proactively respond to changes in the market by reviewing our sales structure according to our customers' business models amid drastic changes in market trends. We will also strengthen our sales capabilities even during the COVID-19 pandemic and pursue improvements in the efficiency of production and distribution with the aim to realize synergy with the Group. We are also planning to meet new needs and enter new markets. We will actively work on developing primary food containers and plastic alternative containers as their demand is expected to grow in Japan and overseas. Regarding exports, with the shortage of containers becoming pronounced, we will strengthen our direct trading system and work to transform the portfolio of our customers. We will reduce fixed and proportional costs at the Niigata, Kishu, and Kanto mills to restore competitiveness and build an optimal production system. In addition, with the newly added fancy paper at the Nagaoka Mill, the new organizational structure will aim for a synergic effect regarding colored paper "Yayoi color," and premium printing paper such as High-Apis NEO.
Key efforts related to priority measures
| Business strategy | Status of efforts |
| --- | --- |
| Build an optimal production system for printing and communication paper according to domestic and overseas demand trends | We will pursue a product mix for our profit center that responds to change and aim for maximum profits while being aware of the superiority of paper sales and pulp production as well as fluctuations in the price of waste paper. |
| Strengthen export and sales capabilities based on a direct trading system | We will promote direct trade in exports. We will increase orders for A3 paper to increase the operating rate of paper machine No. 9 (N9) at the Niigata Mill and focus on fields where demand for coated duplex board and uncoated paper for processing is expected to grow. |
| Expand sales of packaging products and plastic alternative packaging materials | Exports of base paper for paper cups are growing in response to the demand for alternatives to plastic. We will propose and expand the sale of paper products and cutlery as alternative materials for primary food containers used in fast food and convenience stores. |
| Develop products for new use by applying printing and communication paper manufacturing technology | We will work to develop new products, such as offering to new markets the functionality of transparent paper and water-absorbent paper for coasters, which were born from the application of manufacturing technology. |
| Discover latent demand for our products and improve customer satisfaction | We will establish the Wholesale Merchant Department, Direct Sales Department, and Publishing & Media Department in accordance with the business models of our customers to strengthen our sales capabilities. We will further aim to improve services by establishing a new Material Logistics Department and building a functional management system. |
| Incorporate new product needs into the packaging business as a united Hokuetsu Group | As part of strengthening our organization in response to the growing demand for paper products due to the transition away from plastics, we will thoroughly share information within the Hokuetsu Group and promptly respond to user requests to meet latent needs. |
| Expand the Kanto Mill Katsuta as a next-generation environmental manufacturing base | The Kanto Mill Katsuta has set its own goal of becoming a "CO  zero" mill by 2030. It will implement biomass power generation and employ mega solar as an effort to advance biomass power generation. |
Key efforts related to priority measures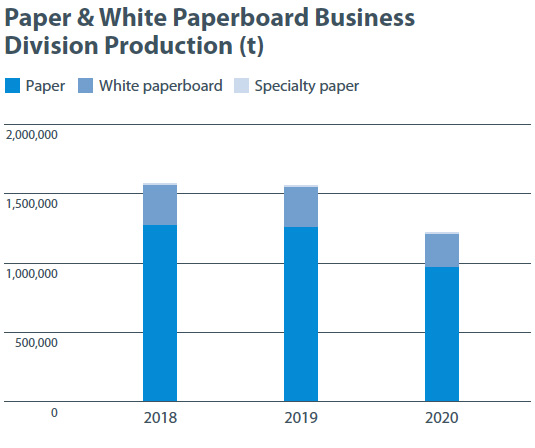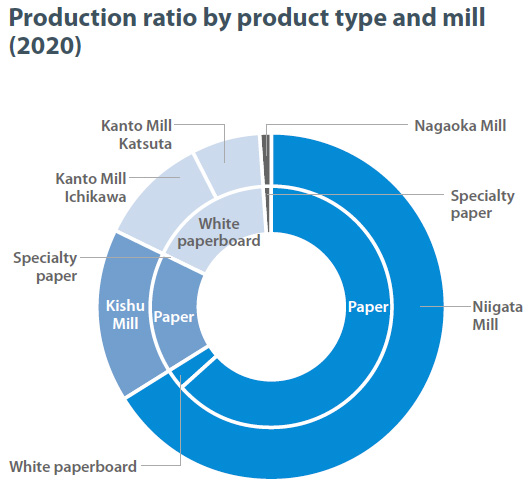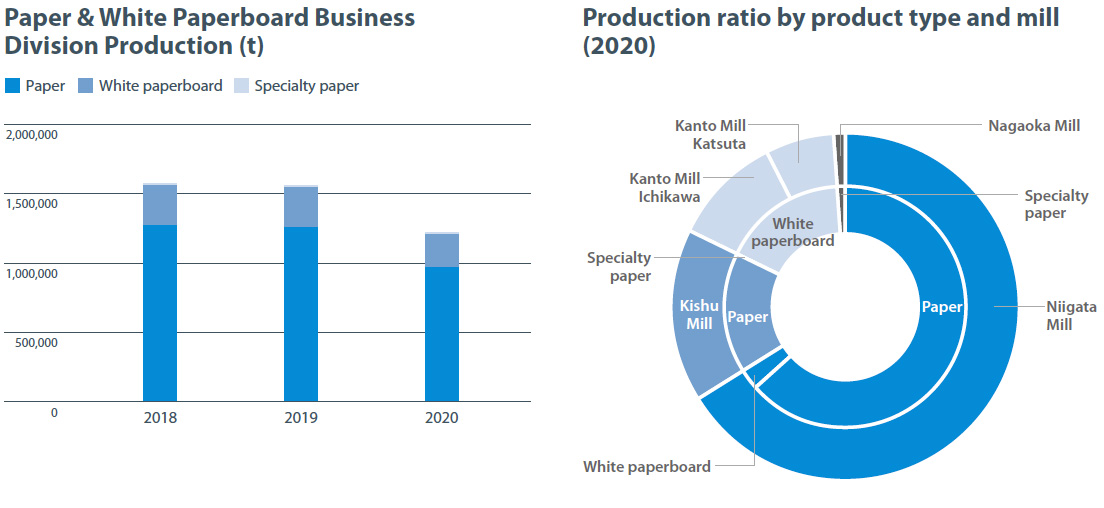 FOCUS:Responding quickly to new user needs
Transition to a new organization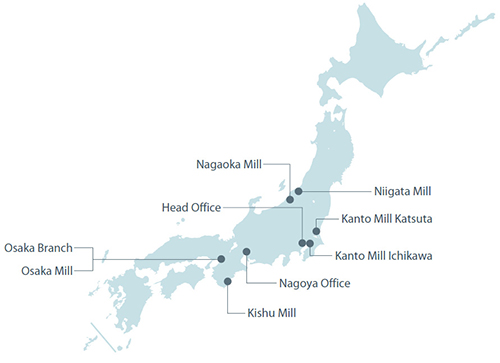 Features
We reviewed the organization of our business divisions, which had been created based on product items, and consolidated the existing paper business (printing and communication paper, specialty paper and fine paper) and white paperboard business. The Sales Department follows the business types of our customers and be reorganized as the Wholesale Trading Department, Print-on-Demand Department, Publishing Department, and the International Export Department. The new division will leverage the strengths of handling all of our products and strive to uncover latent needs in specialized categories and strengthen its sales capabilities.
In addition, we will advance our sales activities in collaboration with Hokuetsu Paper Sales, strengthen accompanying visits to customers, propose products that meet customer needs, and implement meticulous responses in an integrated manner to build relationships that earn trust. The Material Logistics Department (new) is divided into production (paper making) and logistics (delivery), and coordinates daily with the Niigata Mill, Nagaoka Mill, Kishu Mill, and Kanto Mill to improve efficiency by optimizing production, rationalizing logistics and consolidating inventory.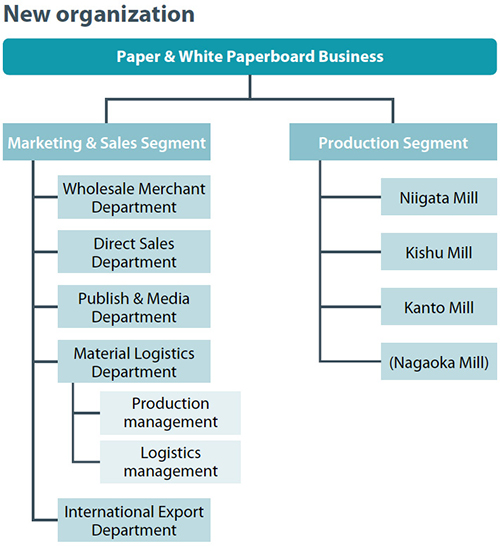 Plastic alternatives (paper container material)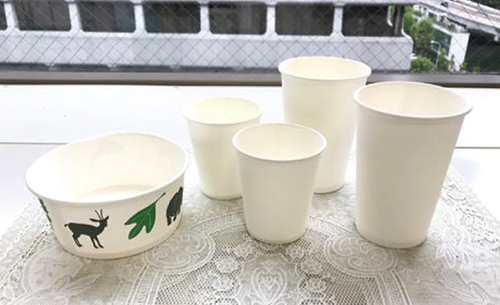 Product introduction
Base paper for paper cups is a paper that is primarily used for paper cups, paper plates, and paper trays. In recent years, the advantages of paper have been recognized from the viewpoint of the SDGs and decarbonization, and base paper for cups is attracting attention. There are two types of base paper for cups, coated and uncoated paper products, both of which comply with Japan's Food Sanitation Act, and this material is used as base paper for various foods.
Characteristics
Coated products
Coated products have a coating applied to the surface of the paper. Applying a coating yields a higher coloring effect than that of uncoated products, making the paper suitable for printing. Due to its high print reproducibility, it is suitable for use in applications that require decoration. Our paper is characterized by layering many sheets of paper into a laminate, which resists tearing and cracking during molding and is suitable for various processes. Its basic weight is 190-450g/m .
Main uses: Ice cream cups, food packaging
Uncoated products
Unlike coated products, uncoated products have an uncoated paper surface. The paper is soft to the touch because it does not have a coating. Our paper is a single-layer paper manufactured from a single sheet, and it is soft because it has a higher specific volume than coated products, making it easy to process. For this reason, it is used not only for cups but also for trays and paper plates. In addition, since it is manufactured on a large machine, it has the advantage of being suitable for mass production. Its basic weight is 100g/m  to 280g/m . Main uses: Paper cups, paper plates, paper trays
Future outlook
We entered the paper cup market in 2015 and have expanded our sales by constantly improving our products. As coated products have been used in a variety of applications, we will continue to develop a wide range of products while earnestly addressing the needs of our customers. Currently, we export most of our uncoated products, but will increase sales in Japan in the future. In both cases, we will further advance product characteristics such as processing suitability and will also work to develop functional base paper moving forward. We have formulated "Hokuetsu Group Zero CO  2050" and set the goal of becoming carbon-neutral. Hokuetsu Corporation can provide the best solutions for the needs of customers seeking to decarbonize. We will offer various proposals to our customers while promoting both our quality and environment aspects.
TOPICS:Plastic alternatives - Paper cutlery base paper
The Hokuetsu Group also produces base paper for paper cutlery, such as paper spoons and paper muddlers, which serves as an alternative material to plastics.